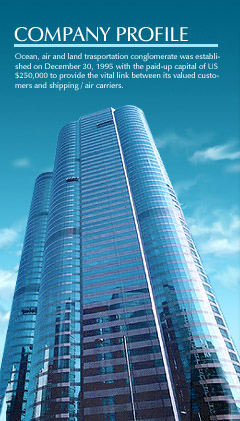 | | |
| --- | --- |
| | Coreana Express Limited, an ocean, air and land transportation conglomerate was established on December 30, 1995 with a paid-up capital of US$ 250,000. Coreana aimed to provide the vital link between its valued customers and shipping / air carriers, playing its apart in ensuring that cargoes are delivered on time and in good condition. |

Despite its short history, Coreana has grown to become a mid-size N.V.O.C.C. and major force on the market of Hong Kong, Korea and worldwide for shipping and air, due to its young and dynamic power.

With ocean, air and overland capacities on six continents, we have earned an excellent reputation for reliability, on time delivery and the broad diversity of our services. Through our well trained professionals, who are wholly dedicated to the international transportation needs of our clients and international associates, you will find our flexibility and professionalism will fit your specific transportation needs.

Our cooperate policy of consistent and reliable service at a competitive price has thrust the company prominently into the international transportation scene.

Also, our company has a full range of supplementary services to meet the requirements of different clients, including storage and warehousing, inland transportation, custom clearance and documentation.

With Coreana, we offer you a friendly link to international transportation and we believe that our name "Coreana Express Limited" will be encountered by numerous people in every corner of the world.